How Infrared Saunas Can Help With Bursitis
Good Health Saunas' infrared saunas offer key features for helping in the fight against bursitis, and that includes 360 degrees of heat penetration and a comfortable bench. Infrared heat penetrates deep into the body, and our infrared saunas ensure you can feel that heat all over. With heaters located throughout the entire sauna, even in the floor, a Good Health Saunas' infrared sauna is able to stimulate blood circulation and improve joint mobility and pain. Our infrared saunas also come equipped with an enjoyable place to sit down and rest, which is a crucial part of improving the symptoms of bursitis. With this, individuals are able to feel the benefits of an infrared sauna session while also relaxing comfortably on a durable bench.
VIEW OUR SAUNA MODELS
Written Testimonials
"As a former Cheerleader, I still experience knee and back pain. I workout and have no energy after workouts, and didn't want to get into pre-workout supplements. I recently started using the Good Health Sauna before and after my workouts. My energy has gone up substantially and my knee and back pain have subsided. My arms, legs, and back have gotten looser and I've never been more flexible. I would highly recommend getting a Good Health Sauna to add to your daily workout routine!"
- Samantha Jane, Customer
"I fell in love with the infrared sauna and would recommend it to my friends, family, teammates and patients! About 2 months ago I had ACL reconstruction surgery. As a recently graduated Doctor or Physical Therapy, my physical therapist and I have spent countless hours addressing the muscle guarding and tightness surrounding my knee. After the infrared sauna this musculature was noticeably more relaxed and the joint itself moved with greater ease. There was a significant decrease in my knee pain/discomfort after the infrared sauna. I would strongly recommend the use of an infrared sauna to my patients to aid in their recovery- physically, physiologically and mentally."
- Gina Scaffidi, Customer
"An overall invigorating experience! As a personal trainer/physical therapy tech for 20 yrs and having worked at many gyms with traditional saunas, I can honestly say that my experience with a Good Health Sauna was markedly better than the gym saunas. Being an avid weight lifter in my early 50's, I noticed a few more aches in my joints, especially during the winter months in Wisconsin. To try to remedy this I would sit in the gym sauna prior to my lifting sessions to warm up my muscles and joints. I could usually only handle about 5 minutes or so before my throat and lungs would feel a mild burning sensation, which was uncomfortable, so I would leave. It helped my muscles and joints minimally and temporarily. One of my personal training clients recommended the Good Health Sauna. I was able try one out at their show at the Wisconsin State Fairgrounds exhibit hall and was immediately convinced! I was able to comfortably sit in it for 15 minutes with no throat or lung burn! And I felt relief in my joints! After purchasing one, I can comfortably sit in it for 45 to 60 minutes with no issues! My joint pain is virtually gone and I feel much better overall! I highly recommend a Good Health Sauna!!"
- Michael Laube, Customer
"We bought our Good Health Sauna at the Iowa state fair and have now been enjoying it for a year! We love how it warms us up in the winter months, and it feels amazing on the joints and muscles. Overall we would say we feel much more healthy as a result of using it. Every member of the Good Health Saunas team from sales to delivery and office staff have been thorough and courteous and we feel well cared for as customers. If you are even considering an infrared sauna, don't wait! You will LOVE it!"
- Jim Patch, Customer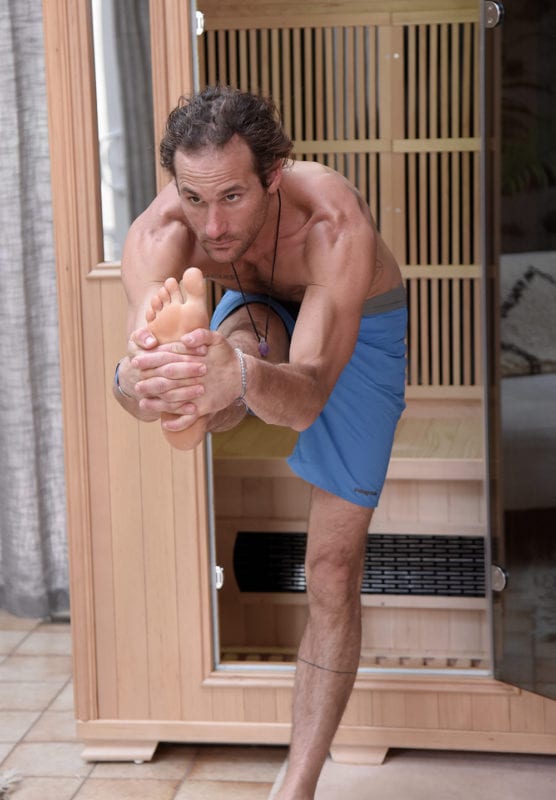 Tips for the Best Sauna Experience
1. Stretch before entering the sauna.
Stretching wakes up your body, gets your blood pumping, and increases your flexibility, and these preparations will ensure that your mind, body, and health will see the greatest results after your infrared sauna session.
2. Hydrate your body.
They say you should drink at least eight 8-ounce glasses of water each day, and they're not wrong! Keeping your body hydrated guarantees that you'll have the stamina to enjoy an entire session of healthy heat in an infrared sauna.
3. Find the right settings.
Not everyone has the same body, so not everyone should have the same settings when it comes to their infrared sauna experience. If you're looking to truly relax, then you may want to adjust the chromotherapy lighting to our cool blue, turn the heat to a lower temperature, and play some calming tunes. But, if you're someone who wants to use the infrared sauna to feel energized, then perhaps a radiant orange, higher temperature, and an inspiring music selection is the way to go.
4. Take advantage of the bench.
Our infrared saunas come equipped with a comfortable bench that's stationed at just the right height, so use it! The bench gives you somewhere to put your feet up to relax, sit calmly if you want to meditate, or provides an area for you to do that stretching we talked about earlier.
Related Knowledge Center Articles