IR Saunas for Your Home or Business
Our top-of-the-line infrared saunas are designed to safely provide a relaxing place to unwind, recover, and improve your health at home. With state of the art infrared heating technology, verified by industry experts and independent reporting agencies, you can be confident that Good Health Saunas are the safest, most beneficial infrared saunas available.
Infrared saunas heat your body directly with infrared lamps. This is different than most other types of saunas, which heat the air around you to heat your body. Good Health Saunas infrared saunas are made out of the highest quality Forest Stewardship Certified, Canadian Hemlock and Cedar woods, and are complete with tempered glass. Each infrared sauna has multiple heaters, which emit very low electromagnetic field reading, and use chromotherapy lighting options to provide therapeutic stress relief, the expulsion of toxins, and an overall improvement of health and wellness. Using a GHS infrared sauna at home is the best way to safely achieve all the great health benefits of infrared sauna therapy.
HybridHeat: Lowest-EMF Infrared Heater in the Industry
We invested a lot of time and money to develop the safest low-EMF infrared technology in the industry. After 2 years of designing, testing, and redesigning, our new low-EMF infrared heater provides a revolutionary development in the field of infrared heat therapy and health preservation. Learn more about how HybridHeat technology works.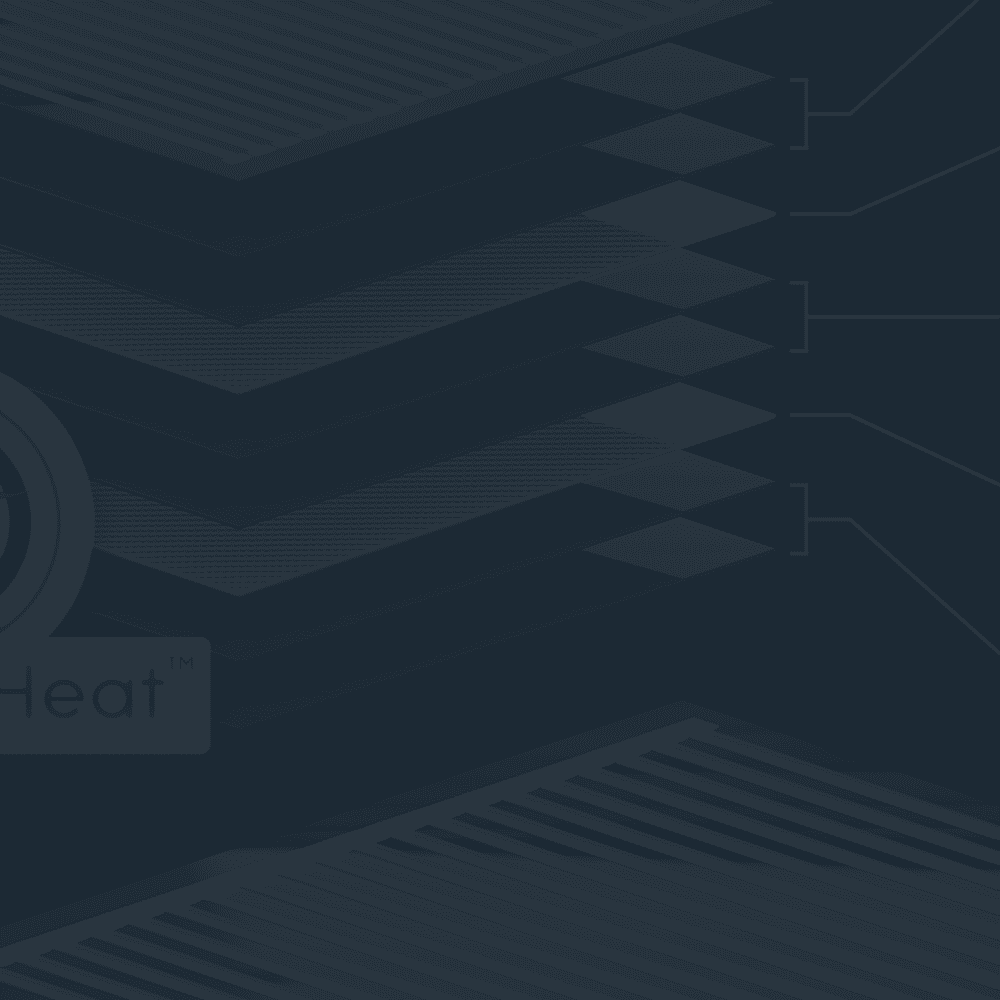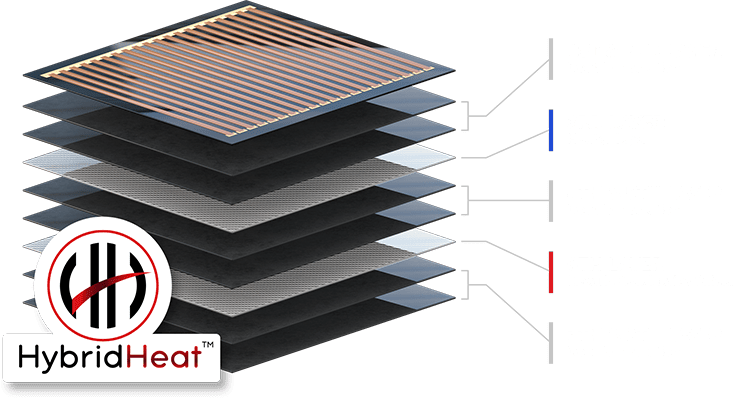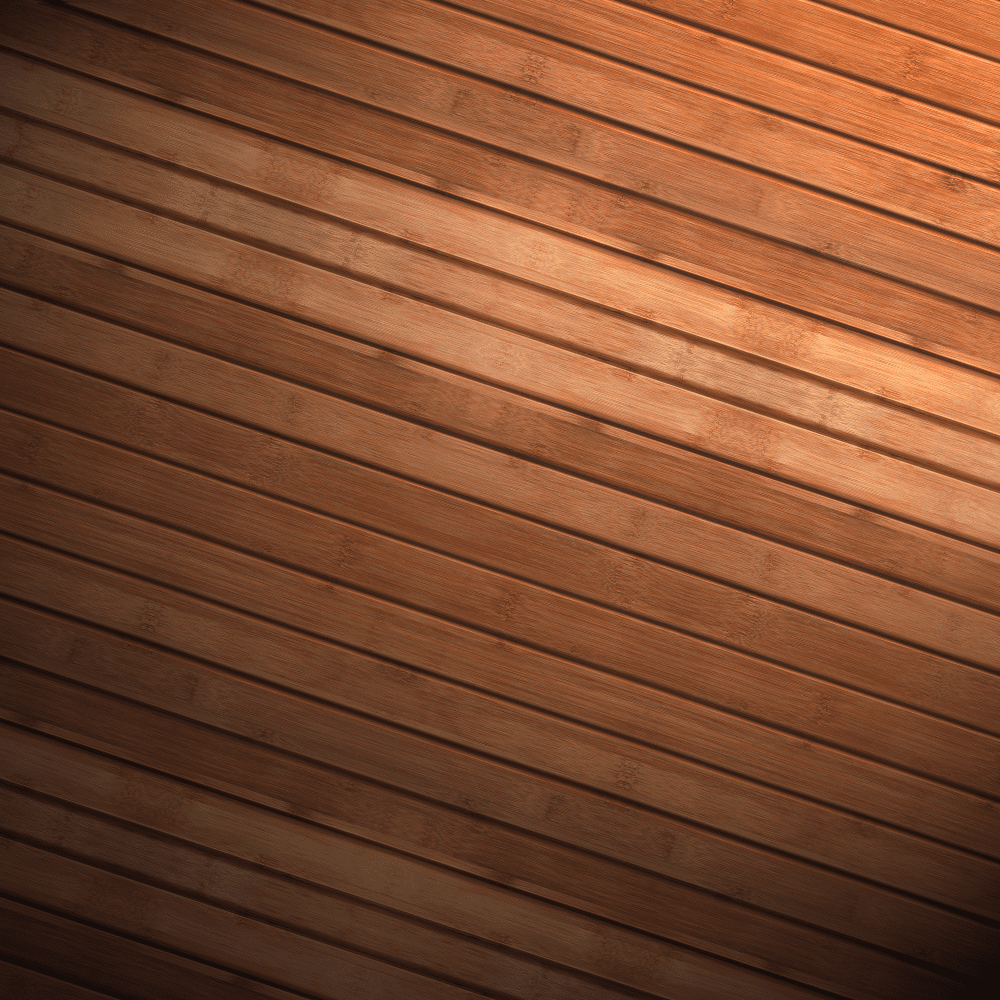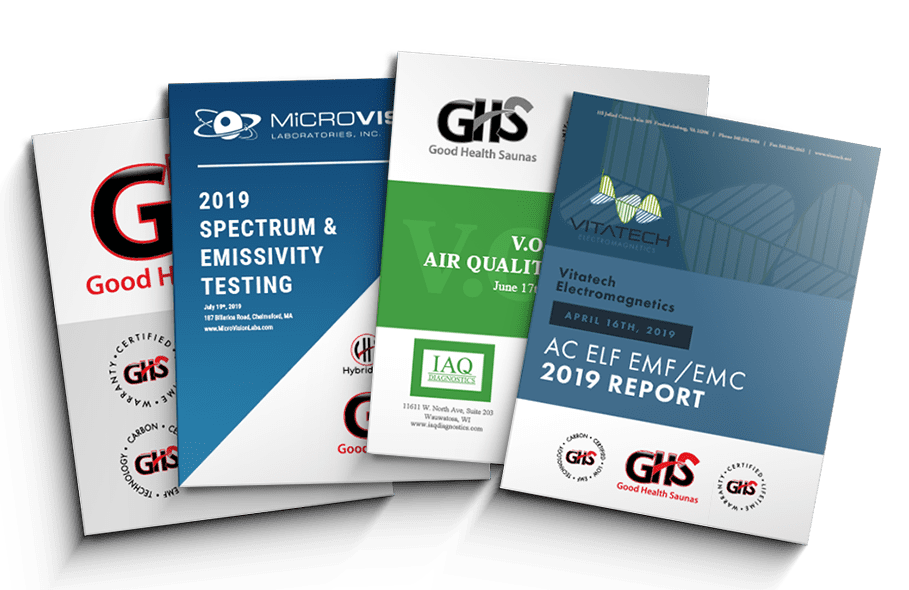 Sauna Quality & Safety Certifications
We're proud to have every aspect of our infrared saunas tested and certified by independent laboratories and research centers. It's our way of guaranteeing a quality product and ensuring you have every bit of information you need to make an informed decision. Our saunas are tested on an annual basis for EMF levels, air quality, wood quality, and emissivity. We encourage you to take a look at our certifications and reports to see for yourself how GHS saunas really are the safest infrared saunas.
Infrared Sauna Owner's Guide
Congrats on your new infrared sauna! GHS saunas are excellent tools for improving your health. Below is our guide to using your infrared sauna effectively and keeping it up and running.
References for Sauna Owners:
If you do not see the information you're looking for here, check out our infrared sauna articles or contact us with any questions (888-997-2862).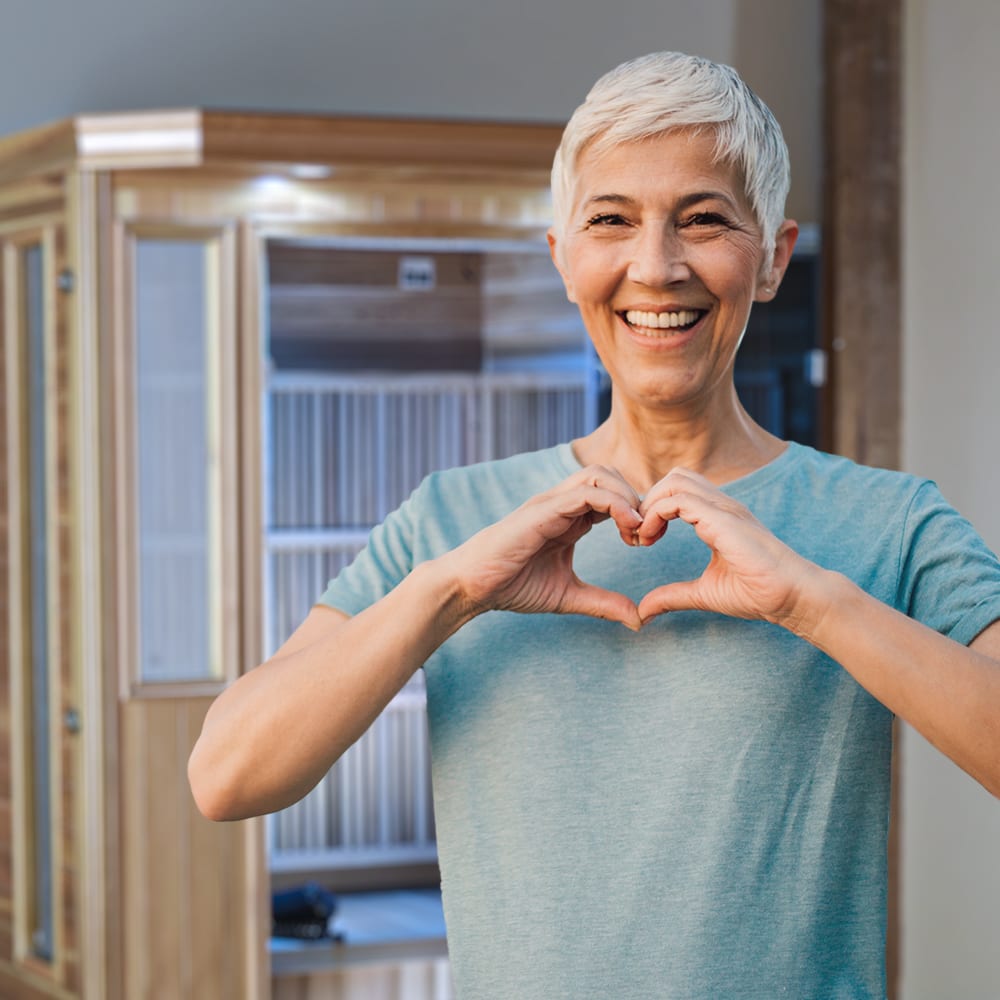 Full-Spectrum Infrared Saunas
Full-spectrum infrared saunas are the all-in-one package for near, mid, and far-infrared therapy. Exposure to all three provides a more effective and efficient infrared light therapy, providing the unique benefits of all three at the same time.
Far-Infrared (FIR) – penetrates deep beneath the skin, triggering fat-based sweating for most effective detoxification.
Mid-Infrared (MIR) – penetrates deeper than near-infrared and generates more heat than far-infrared, best for improving blood circulation and helping to heal injured/inflamed tissue.
Near-infrared (NIR) – makes up most of the sun's infrared spectrum and magnifies its energy on our skin, playing a critical in ATP production and cellular health.
Full-Spectrum, Low EMF Saunas
A full-spectrum infrared sauna provides all the benefits infrared therapy has to offer, and a low EMF sauna eliminates any risk when used as intended. GHS' saunas provide both for the best possible infrared sauna experience.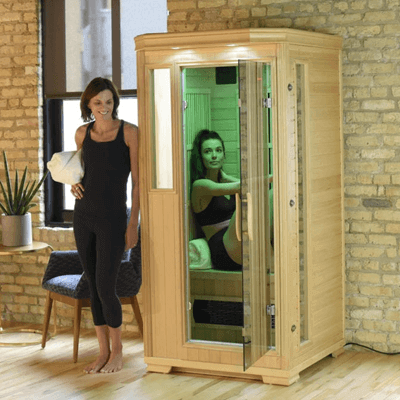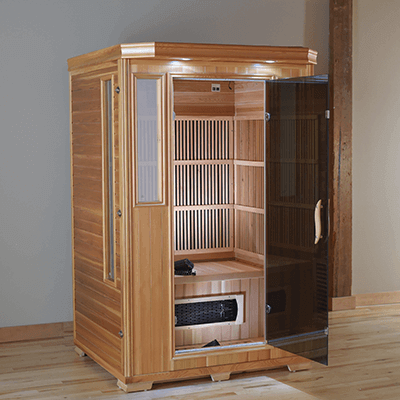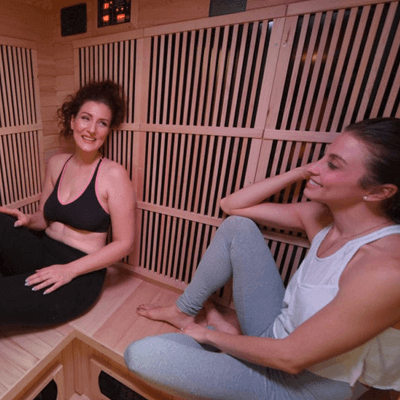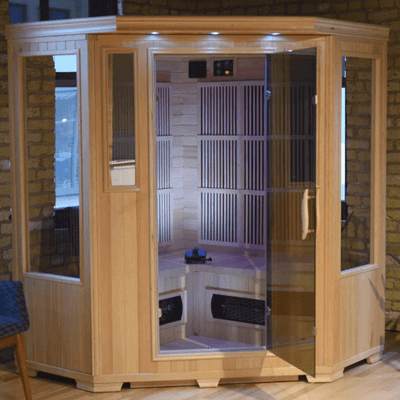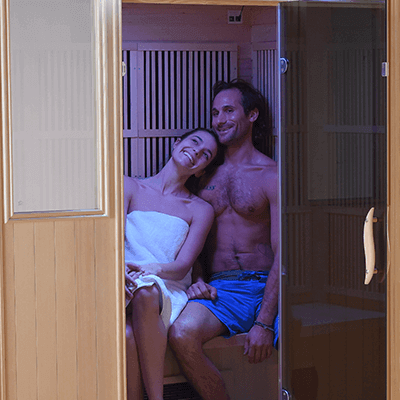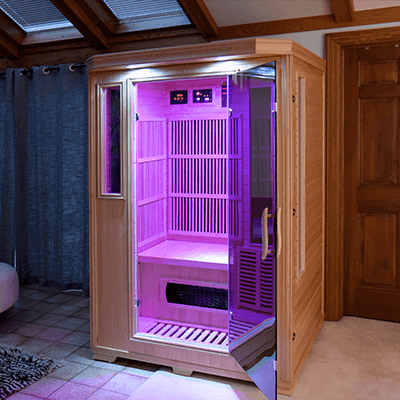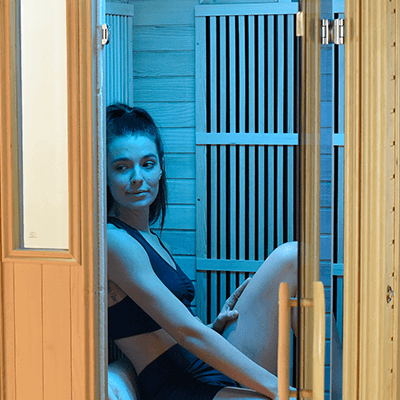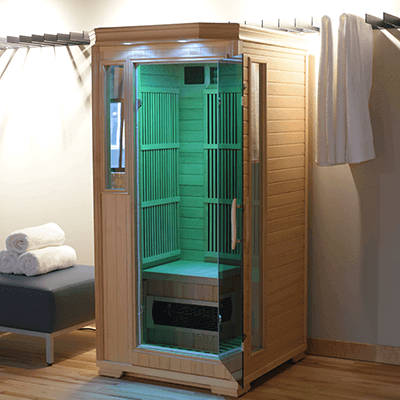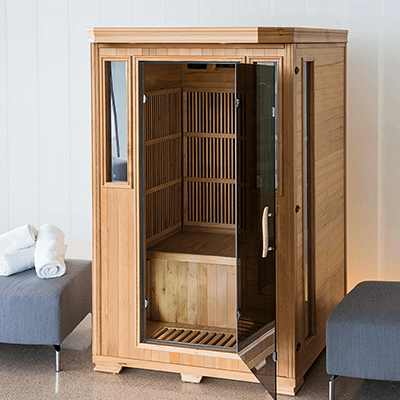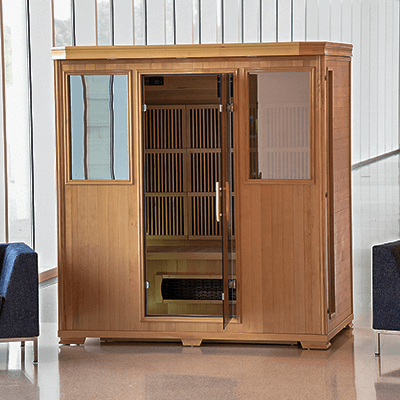 How Infrared Saunas Can Help Overall Health
Improve Flexibility
The healthy infrared heat that penetrates your body during a session in an infrared sauna helps to get blood circulating and muscles, tendons, ligaments, and more warmed up for movement. Combined with gradual stretching, relaxing in an infrared sauna can greatly improve flexibility.
Relax Your Mind
The chromotherapy lighting options that come equipped in our infrared saunas can be set to your desired mood to help stimulate relaxation, increase calming vibes, and put your mind and body at ease. This feature not only helps create a soothing environment for individuals, but it also helps improve long-term mental stability and comfort.
Stimulate Sweating
Sweating is a sure sign of not just your body working hard, but it also means your pores are open and ready to be cleansed. The customizable heat settings in our infrared saunas allow individuals to set just how hot they want their session to get, which controls how much they will end up sweating out toxins and opening those pores.
Enjoy "You" Time
Our infrared saunas are a serene escape for individuals to enjoy their "me" time. Whether it's listening to their favorite podcast with our interior entertainment center or closing their eyes with the cooling chromotherapy lighting options, customers can truly enjoy a full session in a Good Health Saunas infrared sauna in a variety of ways.