Congratulations on your new Good Health Sauna! Below, you'll find electrical information needed to safely use and install your new infrared sauna.
Infrared Sauna Electrical Information
The power cord comes from the roof on all models. It is approx. 10 ft. in length, but varies by model. It will drape down to reach a standard height outlet behind the sauna. If you are having a new service/outlet installed, putting the outlet toward the top of the sauna (higher up the wall) will work very well. The cord comes out of the roof on the left side of the sauna on all models, except the GSE-3C, when facing the sauna.
These models require a 15-amp, 110-volt outlet. This is the "standard" outlet in most homes. Please keep in mind that we recommend this being a dedicated outlet, and that other devices should not be on the same circuit, or it could cause the breaker to trip off.
These models require a dedicated 20-amp, 110-volt outlet. "Dedicated" means the only device running off the outlet. The outlet has a special turned plug (see image below), this denotes the outlet as a 20 amp. 20-amp outlets require 12-gauge wire, to be installed by a certified electrician.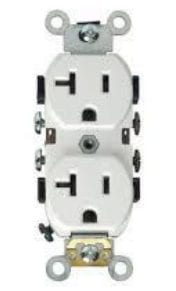 Best Way to Prepare for Your Infrared Sauna
It's ideal to have the electrical outlet installed prior to shipping or installation, but not imperative. Most infrared saunas are shipped to the customer. The sauna can be assembled, and if needed, be slid out of the way. Each sauna has plastic feet at the bottom, making it easy to slide around on the floor or carpet.
In certain areas or instances, Good Health Saunas delivers the saunas directly. If we are installing the unit, our installation team carries an adaptor with them to test the unit if the proper 20-amp outlet is not yet installed.
Our Electric Sauna Heater
At Good Health Saunas, we spent years developing the safest and most effective electric infrared sauna heater in the industry. Our HybridHeat technology represents a revolutionary subversion in the field of heat therapy and health preservation. With industry-leading low-EMF levels, HybridHeat technology inside each GHS sauna will provide the safest, most beneficial, and efficient infrared sauna therapy you'll find.