Sauna Features
Certified Canadian Wood
Good Health Saunas are built with certified Canadian wood. High quality wood is critical to the air quality inside your sauna, and the FSC helps ensure that our saunas only use the highest quality wood for the safest sauna possible.
Entertainment Center
Good Health Saunas come equipped with a crystal clear audio entertainment system. Great for listening to podcasts, music, or calming ambient sounds during your sauna therapy.
Sauna Highlights
Floor Heaters for 360 Heat Penetration
Interior Digital Control Panel for Quick Access
Ceramic & Carbon Heating Elements
Untreated, All Natural Interior Wood
Interior & Exterior Lighting
Tempered Glass
Ceiling Vent
Oxygen Ionizer
Lifetime Heater Warranty
Written Testimonials
"As a former Cheerleader, I still experience knee and back pain. I workout and have no energy after workouts, and didn't want to get into pre-workout supplements. I recently started using the Good Health Sauna before and after my workouts. My energy has gone up substantially and my knee and back pain have subsided. My arms, legs, and back have gotten looser and I've never been more flexible. I would highly recommend getting a Good Health Sauna to add to your daily workout routine!"
- Samantha Jane, Customer
"Excellent- Purchased the 3-person cedar unit 5 years ago at the MN State Fair and love it. We use it almost every day. I use it for stress relief and arthritis and feel so much better."
- Pam Breyette-Post, Customer
"I fell in love with the infrared sauna and would recommend it to my friends, family, teammates and patients! About 2 months ago I had ACL reconstruction surgery. As a recently graduated Doctor or Physical Therapy, my physical therapist and I have spent countless hours addressing the muscle guarding and tightness surrounding my knee. After the infrared sauna this musculature was noticeably more relaxed and the joint itself moved with greater ease. There was a significant decrease in my knee pain/discomfort after the infrared sauna. I would strongly recommend the use of an infrared sauna to my patients to aid in their recovery- physically, physiologically and mentally."
- Gina Scaffidi, Customer
"Hands down the best investment I have ever made. I am more than happy with product and the entire process of getting the sauna. I am a full time working single mother who doesn't have time to get to the gym to sweat everyday. I allow my sauna to heat while I get my daughter to sleep (15 minutes) and then get in it every night for one hour. I have noticed my energy increased immediately, my skin looks better, I have lost 10 lbs by just sweating, my thyroid levels have improved, and my migraines have decreased. I tell everyone to buy a sauna from GHS because I know it will improve all areas of their life. I don't know how I lived without my sauna. Honestly. Best thing I've ever done. Thank you Luke and Ryan for helping me pick the best one and making this process so easy."
- Sara Amann, Customer
"Purchased a 3 person corner unit. I am in love with it!! My skin stays clear and my weight stays down. Pain was elevated before surgery. Husband was a fireman for 30 years, wished he would have used this for the toxins back then. Highly would recommend purchasing one!!"
- Jamie Goeblel, Customer
"My husband & I purchased our Good Health Sauna at #TheBigE Fair last year for maintaining overall good health. I have to say, it is by far one of the smartest purchases we have made to date. My husband & I sit in the sauna every morning to sweat the toxins out! Our health over the last several months of consistently sitting in the sauna for 25 minutes per morning, has improved drastically! We have lots more energy & feel great! You can actually see the whites of my eyes now & I don't look half dead. I would 110% recommend Good Health Saunas to anyone looking to improve / maintain their general overall health. In addition, after purchasing the unit at the fair, the company delivered & installed our unit within weeks - included in the purchase price. Great overall customer service! We are very satisfied! 5 stars for sure! Thank you Good Health Saunas for the opportunity to improve my health!"
- Becky Hogan, Customer
"Spent sometime reviewing different brands of saunas. After seeing the Good Health Saunas at a few shows we decided on the style for us. With the guidance of one of there knowledgeable sales staff (Jeff Anderson) we chose the GSC-3 three person sauna. Great installation and setup instructions. Purchased ours in 2017 and using it 2 to 3 times a week. Excellent quality and workmanship."
- Gary Wendegatz, Customer
"The Good Health Sauna is probably the best value sauna in the market. I have several friends that also have dry saunas. Some do not have the Good Health model. My unit has more options and heats up much more evenly than their models do. One friend may even look to sell his model to someone and go and get his own Good Health brand 3 person model himself this summer. You will be happy with this brand sauna."
- Steve Lamp, Customer
"We purchased the corner sauna two years ago and love it! It has been very relaxing, as well as invigorating. Although we use it almost daily, the unit still looks brand new. We did a lot of research prior to purchase and are very satisfied with our Good Health Sauna!"
- Roger Igielski, Customer
"Our Good Health sauna is one of our favorite things in our house. We bought it during the Polar Vortex this past winter and it was the best way to keep warm and happy. I love to relax in it and sweat. It helps keep your skin beautifully clean. The CD player and radio are a great addition. I would recommend one for everyone. Winters in Wisconsin are cold and this is a way to keep warm and cozy during the winter months. It doesn't take up much space and plugs into a normal outlet—it's not expensive to run at all. Everyone should have one."
- Laura Lee, Customer
"I bought a Good Health Sauna at the Iowa State Fair two years ago. The company gladly held on to it for me until my office build out was completed. I use it personally for all of the fabulous health benefits it offers and feel fantastic. My clients use it before or after massage or as a stand alone service. I appreciate that Jeff is a dedicated representative for Good Health Sauna and was able to answer my question at the fair this weekend. Great customer service is an added bonus to my well lifestyle purchase."
- Katy Polich, Customer
"We bought our Good Health Sauna at the Iowa state fair and have now been enjoying it for a year! We love how it warms us up in the winter months, and it feels amazing on the joints and muscles. Overall we would say we feel much more healthy as a result of using it. Every member of the Good Health Saunas team from sales to delivery and office staff have been thorough and courteous and we feel well cared for as customers. If you are even considering an infrared sauna, don't wait! You will LOVE it!"
- Jim Patch, Customer
"Last year my wife and I visited the Good Health Saunas booth at the Minnesota State Fair. Never in my wildest dreams did I think I would be buying a sauna at the fair and especially since the weather was in the low 90s the day we purchased but I am so glad we did. We both used the sauna regularly during the winder and especially whenever we felt a little run down. This was the first winter that neither of us had a cold or were sick and the big change in life was the sauna. I would highly recommend purchasing a Good Health Sauna you will not regret the choice!!!"
- Mike Brewer, Customer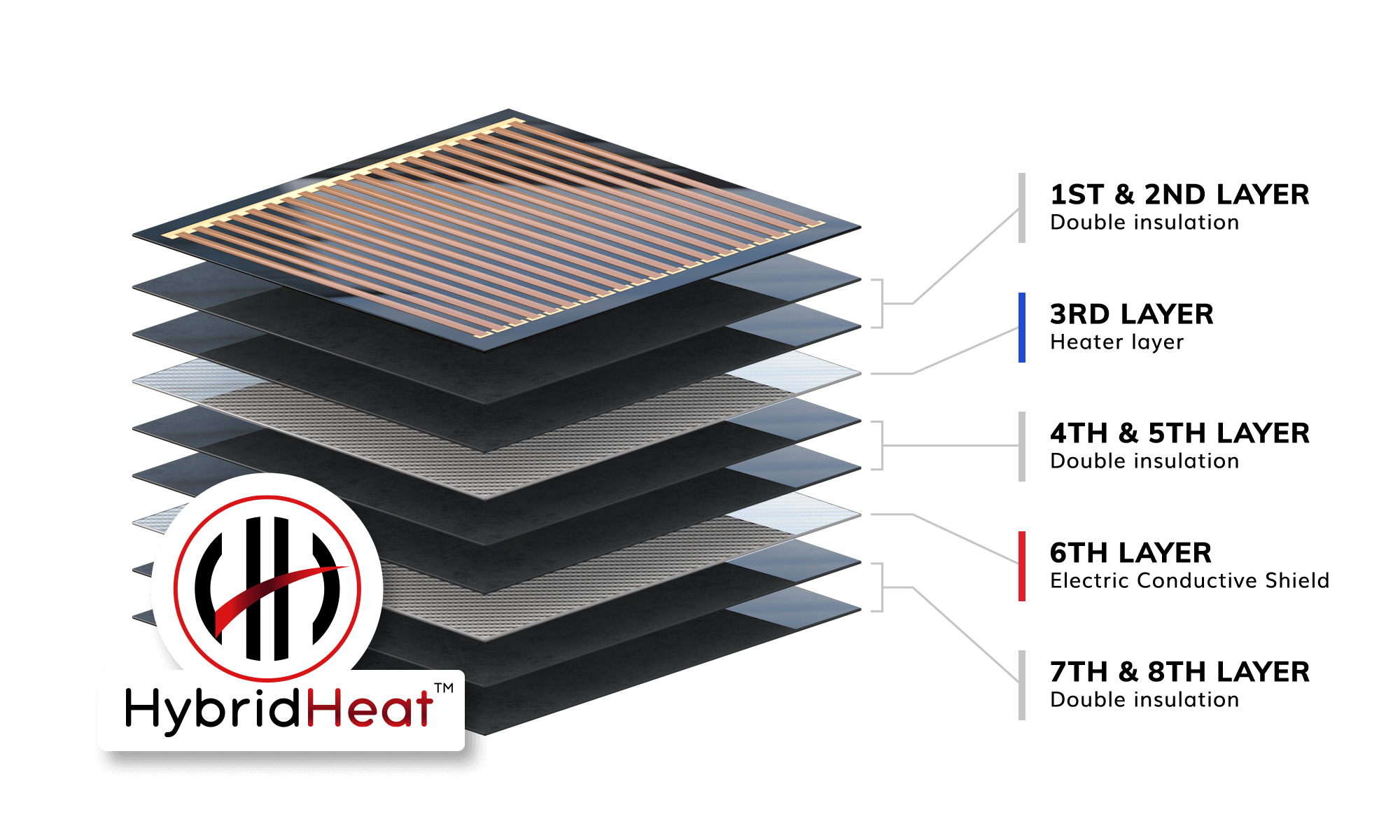 Good Health Saunas Low-EMF Infrared Technology
Good Health Saunas' "low electromagnetic far-infrared heating plate" mainly uses the principle of positive and negative electrons to cancel each other. This is to reduce the input current and magnetic field intensity by passing the current through the superconducting magnetic material inside the heating plate, and to eliminate the electromagnetic wave until there are almost none on the surface of the heating plate. Low-frequency electromagnetic waves are the most difficult to shield at present, and the cost of low-frequency electromagnetic radiation is very high. We know that high-frequency electromagnetic waves can be shielded through metal or even ordinary obstacles, but low electromagnetic waves cannot be shielded by ordinary metals at all, which is a large obstacle in the industry.
Good Health Saunas took a long time to work on it, and after two years of continuous experiments, Good Health Saunas delivered. The new low-EMF infrared technology will bring revolutionary subversion in the field of human heating and health preservation. Good Health Sauna will create a brilliant tomorrow with you.