How Infrared Saunas Can Help With Backaches
Good Health Saunas' infrared saunas offer key features for combatting backaches, including our 360 degrees of heat penetration and our comfortably-designed bench. Healthy infrared heat can penetration deeply into the body, and receiving this heat from all angles can improve the symptoms associated with backaches significantly. And, in addition, individuals in our sauna models can relax in the same spot and feel the infrared heat from all around. Speaking of relaxing in the same spot, the durable bench that comes inside each Good Health Saunas' infrared sauna provides an enjoyable setting for those suffering from back pain can sit down and take a load off from their symptoms.
VIEW OUR SAUNA MODELS
Written Testimonials
"Love this Sauna had couple years! Great on my severe Asthma & Allergies! Totally helps my hives! Relaxing to hep body aches & being able to sleep!"
- Lona Gearey, Customer
"As a former Cheerleader, I still experience knee and back pain. I workout and have no energy after workouts, and didn't want to get into pre-workout supplements. I recently started using the Good Health Sauna before and after my workouts. My energy has gone up substantially and my knee and back pain have subsided. My arms, legs, and back have gotten looser and I've never been more flexible. I would highly recommend getting a Good Health Sauna to add to your daily workout routine!"
- Samantha Jane, Customer
"I love my Good Health Sauna. I was never a believer until I sat in one! I used to complain about my back hurting daily. Since using my Sauna almost daily I feel great! For the cost, it was worth every cent. The customer service was great! I did have a light go out and with one call I had a service guy out at my convenience fixing it for me."
- Johnathan Wagner, Customer
"I bought a Good Health Sauna at the Iowa State Fair two years ago. The company gladly held on to it for me until my office build out was completed. I use it personally for all of the fabulous health benefits it offers and feel fantastic. My clients use it before or after massage or as a stand alone service. I appreciate that Jeff is a dedicated representative for Good Health Sauna and was able to answer my question at the fair this weekend. Great customer service is an added bonus to my well lifestyle purchase."
- Katy Polich, Customer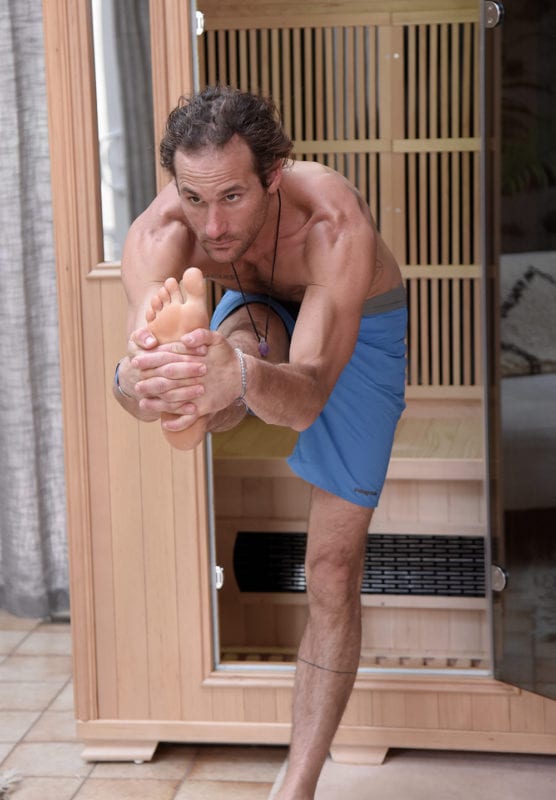 Tips for the Best Sauna Experience
1. Stretch before entering the sauna.
Stretching wakes up your body, gets your blood pumping, and increases your flexibility, and these preparations will ensure that your mind, body, and health will see the greatest results after your infrared sauna session.
2. Hydrate your body.
They say you should drink at least eight 8-ounce glasses of water each day, and they're not wrong! Keeping your body hydrated guarantees that you'll have the stamina to enjoy an entire session of healthy heat in an infrared sauna.
3. Find the right settings.
Not everyone has the same body, so not everyone should have the same settings when it comes to their infrared sauna experience. If you're looking to truly relax, then you may want to adjust the chromotherapy lighting to our cool blue, turn the heat to a lower temperature, and play some calming tunes. But, if you're someone who wants to use the infrared sauna to feel energized, then perhaps a radiant orange, higher temperature, and an inspiring music selection is the way to go.
4. Take advantage of the bench.
Our infrared saunas come equipped with a comfortable bench that's stationed at just the right height, so use it! The bench gives you somewhere to put your feet up to relax, sit calmly if you want to meditate, or provides an area for you to do that stretching we talked about earlier.
Related Knowledge Center Articles